CONSCIOUS BODYWORK at
Jenny Colebourne's Illium Center of Light.
We believe very strongly that every body is beautiful at all ages and that it is important to let go of society's prejudices of how a body should look. We will take you on a journey to rediscover your body, honour its uniqueness and retrain it to move with ease and assurance from its core.
"The best Pilates in the world" – Julianna Stegner, cultural events manager, Goethe Institute.
REFINED PILATES©
GROUP SESSIONS
A unique opportunity to learn from two master teachers/mentors: Jenny Colebourne and Adriana Zachariou who have been teaching since 1974.  And with teachers Ioanna Tzartzani and Nelly Gianioti who were trained at Illium.
Refined Pilates is a conscious, intelligent way of exercising. Each individual is given a series of exercises, on mats or specially designed equipment, tailored to suit her or his needs. The exercises are challenging and therapeutic.
Great emphasis is placed on breathing and on the fine details of how to perform each movement. Refined Pilates results in improved posture and bodyline. Its unique approach encourages a balance between flexibility and power. It is an excellent system for anyone from nine years old upwards, dancers, those wishing to achieve a fitter body, to exercise for therapeutic reasons, pre- and post-natal women, as well as being an excellent complement to other fitness and sporting pursuits.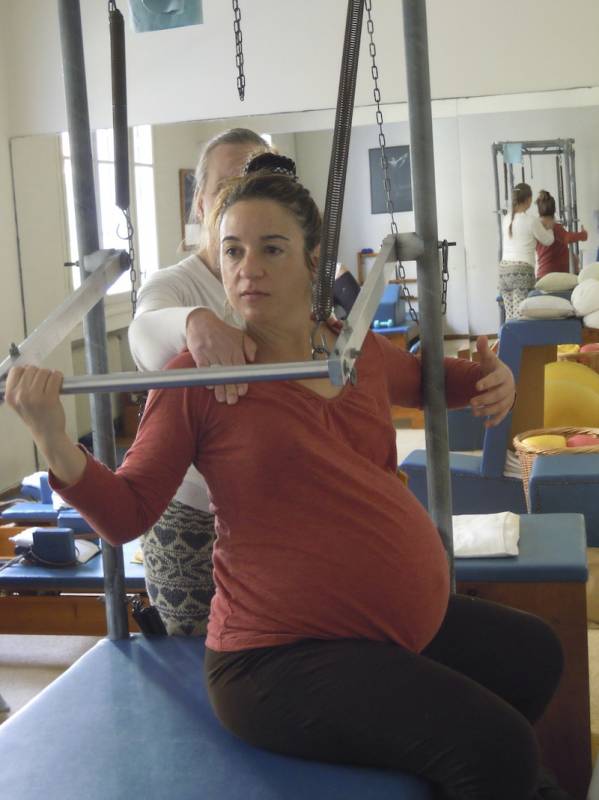 We are one of the few studios still offering full hour and a half group sessions. Most offer an hour only. I feel this time is essential for ensuring there is adequate time to identify the needs of the client, a proper warm up and a relaxation at the end.
CLASS TIMES
Classes are by appointment only and last a full hour and a half and are in groups of up to 6 persons.
Please note each client is given a program exactly tailored to his or her needs. We do not have everyone doing the same exercises.
Appointments are available: Monday and Friday 9:30-12:30; Tuesday & Thursday 9:30-14:00; Wednesday 10.00-11.30 Monday and Friday 17:00-20:00; Tuesday, Wednesday and Thursday 15.30 – 20.00; and Saturday 9:30-12:30.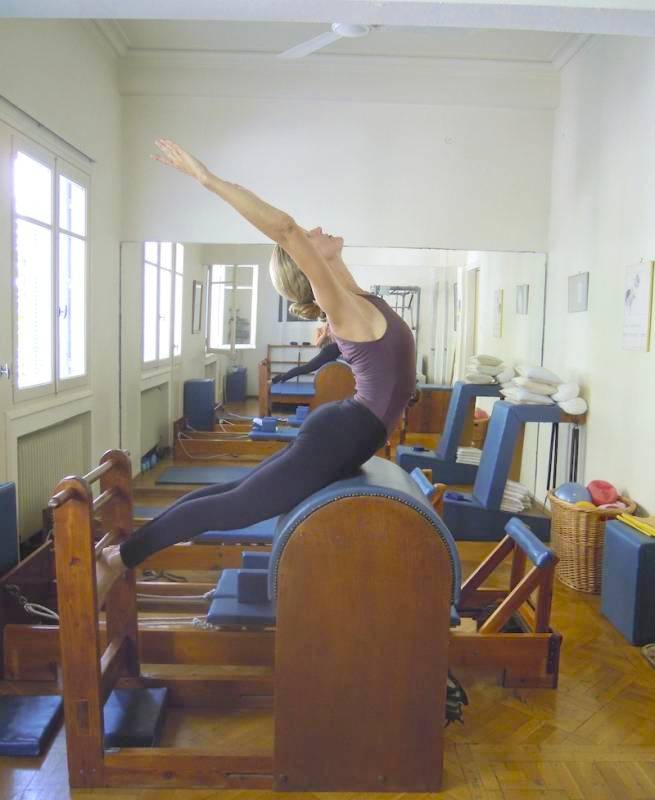 PRIVATE SESSIONS
REFINED PILATES© 
Private Refined Pilates © private sessions are intense and are therefore an hour long. Private sessions can be arranged with any of our teachers and are by appointment. Here is what one client had to say about her private sessions:
"I started Refined Pilates © private sessions with Jenny two years ago. Jenny taught me to get to know and love my body. Something I had never done. Jenny's sweetness and calm taught me to love my exercise sessions and want to look after myself better. I saw an enormous improvement in my posture, my flexibility and in the intense muscular and bone pain I had suffered. I performed exercises I never thought I would ever be able to do and my self-confidence grew. Jenny won a very special place in my heart because she gave me such a lot in such a short space of time. I am very thankful to her."

Barbara Mamatis. Artist                                 
ΕΝΣΥΝΕΙΔΗΤΗ
ΣΩΜΑΤΙΚΗ ΑΣΚΗΣΗ
Στο Illium πιστεύουμε ακράδαντα πως κάθε σώμα είναι όμορφο σε κάθε ηλικία και πως είναι σημαντικό να απαλλαγούμε από τις κοινωνικές προκαταλήψεις όσον αφορά στο πώς «πρέπει» να φαίνεται ένα σώμα. Μαζί θα πάμε ένα ταξίδι προκειμένου να ανακαλύψετε εκ νέου το σώμα σας, να τιμήσετε τη μοναδικότητά του και να μάθετε από την αρχή πώς να το κινείτε με άνεση και αυτοπεποίθηση εκ βαθέων.
"Το καλύτερο Pilates στον κόσμο" – Julianna Stegner, διευθύντρια πολιτιστικών εκδηλώσεων, Ινστιτούτο Γκαίτε.                              

    ΟΜΑΔΙΚΕΣ ΣΥΝΕΔΡΙΕΣ
REFINED PILATES© 
Μία μοναδική ευκαιρία να διδαχθείτε από ΔΥΟ ΚΟΡΥΦΑΙΕΣ ΔΑΣΚΑΛΕΣ/ ΜΕΝΤΟΡΕΣ, τις JENNY COLEBOURNE και ΑΝΤΡΙΑΝΑ ΖΑΧΑΡΙΟΥ, οι οποίες διδάσκουν πάνω από 1974, όπως επίσης και από τις Ιωάννα Τζαρτζάνη και Νέλλη Γιαννιώτη.
Το Refined Pilates είναι ένα είδος ενσυνείδητης και έξυπνης μορφής άσκησης. Στον καθένα δίνεται μία σειρά ασκήσεων σε στρώματα ή ειδικά σχεδιασμένο εξοπλισμό, διαμορφωμένες έτσι ώστε να ανταποκρίνονται στις ανάγκες του, όντας ταυτόχρονα απαιτητικές αλλά και θεραπευτικές. Ιδιαίτερη έμφαση δίνεται στην αναπνοή καθώς και στις μικρές λεπτομέρειες στην εκτέλεση κάθε κίνησης. Το Refined Pilates βελτιώνει την στάση και την γραμμή του σώματος. Η μοναδική προσέγγισή του καλλιεργεί την ισορροπία μεταξύ ευελιξίας και δύναμης. Αποτελεί ένα εξαιρετικό σύστημα εκγύμνασης για άτομα άνω των εννέα ετών, για χορευτές, για όσους επιθυμούν να αποκτήσουν πιο γυμνασμένο σώμα ή να ασκηθούν για θεραπευτικούς λόγους, για γυναίκες κατά τη διάρκεια της κύησης αλλά και μετά καθώς και ως ένα εξαιρετικό συμπλήρωμα άλλων αθλημάτων ή μεθόδων εκγύμνασης.
Αποτελούμε ένα από τα ελάχιστα στούντιο που ακόμα παρέχουν συνεδρίες διάρκειας μιάμισης ώρας, την στιγμή που τα περισσότερα στούντιο παρέχουν ωριαίες συνεδρίες. Θεωρούμε ότι αυτό αποτελεί ένα επαρκές χρονικό διάστημα για να προσδιορίσουμε τις ανάγκες του πελάτη και να γίνει σωστή προθέρμανση αλλά και χαλάρωση στο τέλος.
Μαθήματα μόνο κατόπιν ραντεβού, διάρκειας μιάμισης ώρας και σε ομάδες έως 6 ατόμων.
Δίνουμε στον κάθε πελάτη ξεχωριστό πρόγραμμα ασκήσεων, βασισμένο απόλυτα στις δικές του προσωπικές ανάγκες.
Δυνατότητα ραντεβού: Δευτέρα 9:30-12:30, Τρίτη, Πέμπτη & Παρασκευή  9:30-14:00, Τετάρτη 10:00-11:30, Δευτέρα & Παρασκευή 17:00-20:00, Τρίτη, Τετάρτη & Πέμπτη 15:30-20:00 και Σάββατο 9:30-12:30.
ΙΔΙΑΙΤΕΡΑ ΜΑΘΗΜΑΤΑ
REFINED PILATES © 
Τα ιδιαίτερα μαθήματα Refined Pilates © είναι εντατικά και για τον λόγο αυτό διαρκούν μία ώρα. Τα ιδιαίτερα μαθήματα μπορούν να προγραμματιστούν με οποιονδήποτε από τους δασκάλους μας και μόνο κατόπιν ραντεβού. Ακολουθεί η άποψη μίας πελάτισσας για τα ιδιαίτερα μαθήματα που έκανε:
"Ξεκίνησα ιδιαίτερα μαθήματα Refined Pilates © με την Jenny πριν δύο χρόνια. Η Jenny με δίδαξε πώς να γνωρίσω και να αγαπήσω το σώμα μου, κάτι που δεν είχα κάνει ποτέ στο παρελθόν. Η γλυκύτητα και πραότητα της Jenny με έκαναν να αγαπήσω την άσκηση και να επιθυμώ να φροντίσω καλύτερα τον εαυτό μου. Διαπίστωσα μεγάλη βελτίωση στη στάση μου, την ευλυγισία μου και τους έντονους μυοσκελετικούς πόνους από τους οποίους υπέφερα. Κατάφερα να υλοποιήσω ασκήσεις που δεν φανταζόμουν ότι θα μπορούσα ποτέ να κάνω και αυξήθηκε η αυτοπεποίθησή μου. Η Jenny κέρδισε μία ιδιαίτερη θέση στην καρδιά μου διότι μου έδωσε τόσα πολλά σε τόσο μικρό χρονικό διάστημα.. Της είμαι πολύ ευγνώμων."
Barbara Mamatis, Καλλιτέχνης