Refined Pilates seminar in Edinburgh
Using Jerome Andrews work,
with Jenny Colebourne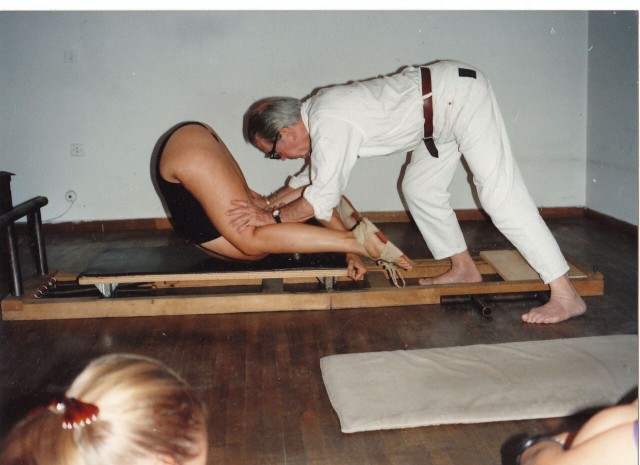 TRANSFORM YOUR OWN BODY AND THE BODIES OF YOUR CLIENTS.
SATURDAY JULY 18.
11.30 – 14.00.
Learning how to breathe deeply and in a relaxed manner.
How the breath can deepen your Pilates Practice and the practice of clients who suffer from serious disorders.
Clarifying  the movement of the diaphragm when breathing.
Pilates did not use just one form of breathing and he utilized holding the breath.
Exercises taught to me by Jerome Andrews which include use of:
1. Roll ups using sharp, staccato, out breath, with sound, relaxing the jaw and opening the mouth.
2. Hundreds holding the breath out.
3. Using the "sighing breath" with the spine rolls.
We will examine why he used different breathing techniques and their results.
How to use the breath to move into deep stretches.
15.00 – 17.30.
Spinal Succession as Pilates saw it. How detailed and meditative this approach is and how it is the ultimate in injury prevention and transformation of the body whether it is your own body or a clients.
The similarities of his approach with yoga.
We will analyze in detail the first, second , third and fourth positions of the spine that Pilates named and used.
Aligning the bones and how the muscles and tissues will follow the bones.
SUNDAY JULY 19.
10.30 – 13.00
Learning how to utilize your sites of support. Detailed instructions on how to use the feet and the hands and how this in turn helps us move right to the end of our perceived movement range and beyond. What appeared difficult becomes easy.
How important the cellular contact of the skin with the surface is.
14.00 – 16.30.
Honing your focus. Pilates work as Jerome taught was transformative on the physical and the psychological level. The level of concentration was akin to meditation in movement.
Keeping the joints softer than you could ever imagine so your movement is free and generous.
The importance of leg alignment.
Jenny says:
"I plan to use classical exercises performed in the way that Jerome taught me. The approach was very different and much more effective than anything I had learnt before. I will teach exercises from the mat, the reformer and the Wunda chair.
"I will endeavour to cover exercises that challenge your personal practice and at the same time include information which will be therapeutic for your clients who have challenging problems.
"I ask that if the weather is warm enough that you work with bare legs and feet. A leotard or bikini for women and a pair of Pilates shorts for men. Just like the man himself! Hair should be up and off the neck.
Contact details:
 lauraweaverspilates@Gmail.com or call 0781629226