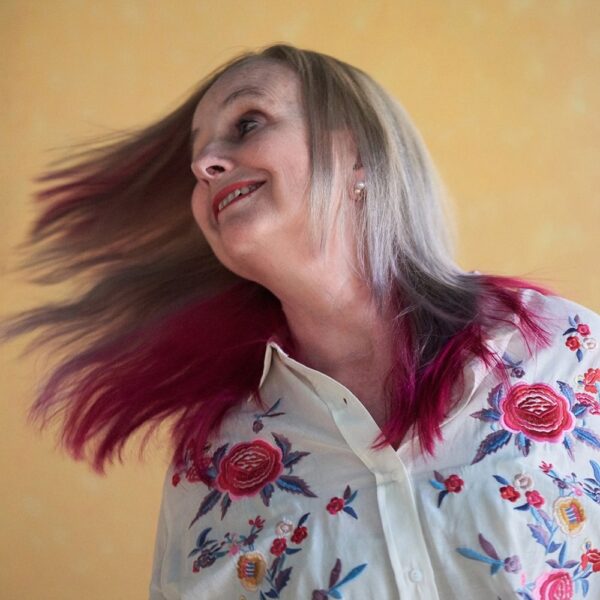 I am Jenny Colebourne, I was born in London, England within the sound of Bow Bells which makes me a true cockney, a true Londoner. I seem to have inherited, from my father's side a great sensitivity towards sound and music and a deep love of dance. I was also born with great sensitivity, an ability to dream and a spiritual connection. I don't know where this came from but I am grateful for it.
I was not born with an easy body, in fact, when I was small, I walked with my toes turned inwards and I was very stiff. For as long as I can remember I wanted to dance. I grew up loving dance, theatre, poetry and art. I spent my teenage years going to the theatre and exhibitions.
LONDON SCHOOL OF CONTEMPORARY DANCE
At the age of 20 I finally attended the full time program at the London School of Contemporary Dance. I was very privileged to have been taught by some very special people who continue to have an effect on my life. People such as Robert Cohen, artistic director of the London Contemporary Dance Theatre. Robert Cohen first introduced me to meditation among many other things. Jane Dudley, previously a lead dancer with the Martha Graham Dance Company. Flora Cushman, William Louther, to name but a few. Incredible artists. It was at the London School of Contemporary Dance that I was first introduced to the Pilates technique by Alan Herdman and was soon a teaching assistant in the basement studio.
I very much wanted to continue my dance studies in New York. Alan Herdman gave me a job teaching Pilates on a luxury Greek cruise ship called "Daphne". My grandmother, who believed in fate, was very moved by this. She had lost her eldest child when she was just 12 years old. Her name was Daphne. Teaching on the ship was a great way to save money and travel! I had always wanted to travel and to get to know other cultures and languages.
THE ISLAND OF SANTORINI
One day I woke up, at dawn, in Santorini. At that time there was no harbour, the ship had anchored in the middle of what is the crater of the volcano which forms the island of Santorini. I felt that I had arrived somewhere totally unique, stunningly beautiful and somewhere that was completely different. I loved the intense light. The light of Greece is unique. I felt the power and energy of the rocks. I felt I was home. I fell in love. Later on as I experienced other aspects of this wonderful country, I felt that Greece was at a gateway between east and west and I loved it. I still do.
NEW YORK
I did travel to New York. Looking back it is amazing how "fate", "the great spirit" guides you. I was not more than a few days in New York when I was given a free ticket to a yoga class. I had been reading about yoga since I was 15 and had looked around for yoga classes but had never been convinced that this was what I was looking for. I attended Rudrani Farbman's meditative, lucid class which was a combination of hatha yoga and siddha yoga meditation at the World Yoga Center, and ended up doing a teaching course.
MARTHA GRAHAM SCHOOL
I attended contemporary dance classes at the Martha Graham School. I remember one lesson. We had just finished the floor work and we had started the standing work. I didn't see her enter. The hairs on the back of my neck stood up as she entered the studio from a door behind me. Martha Graham came to the front of the class and began to tell us a story. Great people often convey important ideas through stories. I will never forget the energy of this tiny woman, her arthritic hands hidden under Japanese – like sleeves. She has had and continues to have a profound influence on my life.
In New York I found an extraordinary ballet teacher, Cynthia Babat. Some of the things I learnt from her I still use today. When the time came for me to leave New York I did not know why I was leaving.
Returning to London I taught Pilates in the studio at the London School of Contemporary Dance, contemporary dance in the dance department at the Middlesex Polytechnic which is now Middlesex University, as well as teaching dance and yoga for the London Education Authority.
GREECE BECOMES MY HOME
I missed New York and I missed Greece for completely different reasons. I decided to go on a holiday, two weeks in Greece and two weeks in New York to see where I wanted to work and live. By the time I had finished my two weeks in Greece I had found a partner and a place to establish a studio.
In 1980 I came to live in Greece permanently. The partnership dissolved within a year and I moved to the house where my Illium, Center of Light is still located. Initially it was called Body Control Center but over the years I came to dislike the word "control".
In the beginning I offered classes in Pilates (I called it Body Control because nobody had heard of a man called Joseph Pilates.) People did not know who he was neither in Greece nor in England). I also taught Yoga.
Very soon after coming to Greece I met osteopath Lena Trifonopoulou. Lena was to become my life long mentor and dear friend even though my Greek was very basic and she spoke French rather than English. Many of the therapeutic exercises she taught me then, I still use today.
Lena was to bring many a challenge to the studio. She sent people, of all ages, with all kinds of problems, with scoliosis with varying degrees of severity, back problems, neck problems, a prolapsed uterus. You name it she sent it.
She sometimes gave me extra advice on how to deal with special cases and we created additional exercises together. I learnt a lot from my cooperation with her and I continue to find her a source of positive inspiration. In working with the lady with the prolapsed uterus I became aware of the importance of the pelvic floor (something that was never mentioned in those days) and began to work with it.
REIKI AND THE POWER OF TOUCH
I was introduced to Reiki and was amazed by the results I got from it. My friend who I choose to practice on was suffering from chronic mononucleosis, severe period pains and panic attacks. She could not work she was so debilitated. I can't remember how many sessions we did. It was certainly less than the 21 I needed to complete to do my second level Reiki.
I was amazed at how much I could understand about where she felt pain, what her feelings were and the great thing was, because she was a friend, we could talk about it and she could confirm my findings.
I was stunned when she started working in an extremely demanding position as editor of a magazine. Although we did not do any more Reiki sessions she did not have another panic attack for a whole year. All traces of the virus also seemed to have left her body.
Nothing could stop me after this experience. I went on to finish my second degree and the my Reiki mastership. I studied with two Reiki masters and was initiated twice as a master teacher. Reiki was added to my repertoire and the importance of touch was very apparent.
CRANIAL SACRAL THERAPY
I had a bit of a recurrence of a back problem and went to Lena for a treatment. I was aware that the treatment was different from what she usually did with me but I had complete trust in her work and therefore did not question it. Two days later I was teaching yoga and had very strong experiences of the heart center and the wisdom center. I phoned Lena. "What was it you did to me the other day? I had these experiences………" Lena replied "Cranial Sacral therapy".
I said immediately: "I WANT TO LEARN IT".
She told me there was no one teaching in Greece. I pleaded to sit near her and learn. She told me I wouldn't be able to see anything. Two years later she called me and told me an American, William Allen, was coming to teach Cranial Sacral therapy. Was I interested? I was there like a shot. Later in my life I marvelled at how lucky I was. William, an ex dentist, had very detailed anatomical knowledge and a great sensitivity towards the work, which I have not found elsewhere. Once again the powers that be sent me a very special teacher. Later William and I were to find out that we shared the same yoga teacher Rudrani Farbman, a yoga teacher who looked at you and your heart center opened.
YOGA
While in New York in my early 20s, as I mentioned earlier, I arrived at Rudrani Farbman's meditative, lucid class which was a combination of hatha yoga and siddha yoga meditation at the World Yoga Center. At the end of the class Rudrani announced a yoga teacher training course. I immediately asked if I could join and was lucky enough to be accepted. I teach hatha yoga at my Athens studio. For the past 12 years my personal regular practice has been Ashtanga Yoga.
THE BALLET MASTER
Life was to send me Don Farnworth. Ballet teacher, author of "Turn Out has no Feeling". I didn't have to go anywhere. These wonderful people came to Greece. Don fell in love with this country and actually bought an apartment here. I had always had a difficult body for dance and turn out had been difficult for me. As a child I walked with my legs turned in. Don taught me "leg alignment". Don healed my legs. Don was a healer with massive, very sensitive hands. Leg alignment as Don taught it is one of the most important things I have learnt in my life. I have, thanks to Don, helped people to avoid injuring their knees or hips and knee operations.
JEROME ANDREWS
Jerome Andrews was about 86 years old when I met him. He was living in France but visited Greece in the summer. Jerome was a dancer and choreographer. He had taught alongside Joseph Pilates for 10 years. Jerome had studied martial arts and 10 years of yoga. he was a wonderful mixture of discipline and hedonism. He had come to an age where he felt the urgent need to pass on his knowledge, particularly to studio owners. Jerome sought us out. His teaching was the finest and most detailed I have ever come across. It was another world. I owe him a huge debt.
THE POWER OF SOUND
All my life I had wondered why music affected me so deeply. I did not have any particular singing talent or any real talent for playing an instrument. In a way it was natural for a dancer/ mover to be easily wedded to sound, still it irritated me that I could not sing! I met Joe Tornabene, a saxophonist and improviser. Joe had a jaw problem and needed cranial sacral treatments. We agreed to exchange cranial for voice work. This began a 10-year apprenticeship where we explored therapeutic sound and movement together. Joe had studied therapeutic sound and had continued to do research by himself. This culminated in him giving a year-long course in "Sound Balancing" at Illium which was so rich with material I am still working with it today.
TEACHING TEACHERS
I have found that I really love to bring young people and their talents out. I started teaching teachers of the Pilates method in 1987. In the beginning this was simply because I needed help in my studio. I was always very demanding but I can say I am very proud of my teachers. They stand out anywhere in the world. Janet Amato was on my first teacher training course, as was Mitsi Pippa. Both have gone on to have not just international careers but to do very deep work.
I teach yoga teacher training as well as Reiki mastership long term apprenticeships. Some people have done all three with me realizing what a powerful combination that can be.
SEMINARS ABROAD
I started teaching teacher training seminars in London organized by Ellie Ioannidou, one of the graduates, from my Refined Pilates teacher Training course, who was Gordon Thomson's studio manager for more than 20 years and is director and founder of Pilates Body Europe.
ISLAND RETREATS
Lately I have been lucky enough to teach intensive seminars on the island of Patmos and Tinos.
MY CD
I have often been told that my voice is very relaxing. I think that being able to relax on a very deep level can bring a person to a state where healing is possible. I believe in the power of positive thinking. I consider being able to breathe fully and completely key to exercising more effectively and accessing different, positive states of mind. I created a CD called "Deep Relaxation and Learning to Breath Fully and Deeply". This CD is available in English digitally from all major outlets.
DVD
I am shortly releasing a DVD about the positive effects of dynamic yoga for people receiving chemotherapy.
MY PHILOSOPHY
I am what you see. I live in the country, in Greece, because I love nature and believe in its positive effects.
I teach Pilates, Yoga and Reiki and I stay as close to their shared philosophy as I can.
I live as honestly and as true to myself as I can.
I trust life as far as I can and try to believe in the greater wisdom behind everything. This can be quite challenging at times.
I believe in showing and sharing kindness and love. That we are all one. All in this together.
I enjoy and respect the differences between races and cultures.
I am a feminist in the sense that I believe that feminine qualities to be as essential as masculine ones. That only when women and men live in a state of deep respect and love for one another will we have world peace.
I give my very best, on all levels to people around me whether it be professionally or personally.
What I practice as a profession is my life.
I have a wonderful daughter who I love to bits.
I love animals.
I am committed to ecological solutions.